Details

Written by Admin
Hits: 1643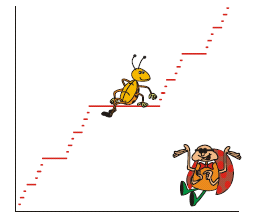 .
.
.
C: This is not an antiderivative of the zero function.
.....
L: Yes, such cannot grow too much on small sets.
.....
H&K: To be precise, only on such where no derivative is.
.....
B&M: Definitely, its out of any monotone control.
.
Hint: CaLeHeKuBeMa
.
Notice that the Cantor function (
EN
) covers the Measure & integration theory (modulo trivia).
.
Observe that f'(x)=0 on A where |A|=1/3 + 2/9 + 4/27 + ... = 1.
.
By the way, the Cantor function corresponds to many hockey matches: almost nothing happens in the middle third, moreover almost nothing happens in the middle thirds of the remaining thirds, ...